A Day Before The Sinulog 2015 Festival
Sinulog 2015 Grand Parade
January 17, 2015 a day before the Sinulog 2015 Grand Parade. A long procession with Sto. Niño the Child Jesus and millions of devotees joined the parade. While I am stuck with the procession nearby Colegio De Immaculada Concepcion School – CIC and stayed there for over an hour, I did take the opportunity to take some pictures and video of the passersby  carrying with them their very own and well dressed Senior Santo Niño replicas. Some whom that I've seen is dressed in Police Uniform. Well, I get the chance to take some pictures of the Cebu City SWAT Team with their SWAT Niño.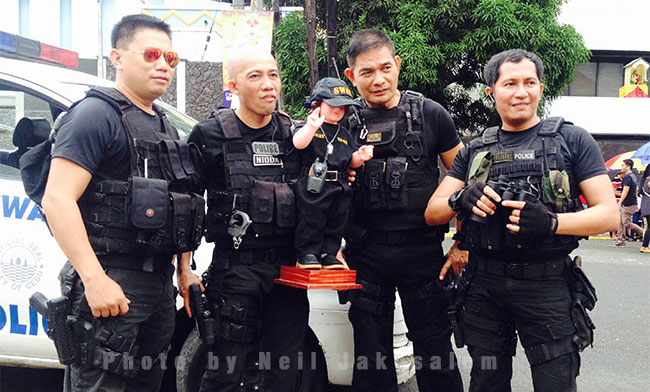 A Night Before The Festival
Fuente Osmeña Circle and Mango Avenue are some of the busiest place in Cebu a night before the festival, where People gathered around the streets, Resto Bars, Dine-in and Party till dawn. Of course traffic is always there.
Another thing, when I passed-by Fuente Osmeña Circle that night, the City Traffic Operation Management were also too busy towing those motorcycles parked along Robinson Supermarket and I mean a lot of motorcycles parked during that night.
I have come to asked myself if the CITOM operatives did inform the public about that No Parking Policy? While on regular days those areas were usually a parking space for the motorcycles.
Better be careful guys next years event do not park your motorcycles along Fuente Osmeña Circle or in front of the Robinson's area.
What I did in Preparation for the Festival
I tell you honestly what I did, I was so busy printing with my Sinulog T-Shirts. So, I spent most of my time preparing the orders dealing with the design and my people.
In addition, I booked a ticket last December for my travel vacation to Mindanao late January 14 and 15, and you know what? I never enjoyed it and it was never been too relaxing. I've waited 4 hours for my delayed flight schedule.
I am not very much comfortable with my travel then, knowing that I only have P500 in my pocket because I spent everything financing the Sinulog T-Shirts.
Well, its a week long of preparation with sleepless nights and running out of budget. I've learned my lesson now and its not going to happen again. I should be preparing months earlier. I am talking about printing Sinulog T-Shirt Design.
My Special Thanks
Despite all that. I am also thankful that everything is going fine. You know? the weather, the event, the safety and most of all I am also thankful to all the customers who ordered my Sinulog T-Shirt. Thank you very much!
I understand that there were some orders that I haven't paid much attention with, because of some reasons. First, the availability of your T-Shirt sizes are already out of stock and I am having a hard time running here and there for your orders.
On the Festival
Everybody is so excited about it. But I never tend to go out and stroll around drawing a by a dozens of crowd. Seemingly it doubled its number each year. So, I decided to just stay at home and have a good time relaxing and unwinding myself giving my family a pizza treat for their support and love.